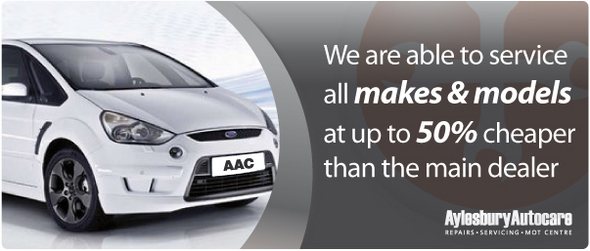 All Makes Servicing
At Aylesbury Autocare we offer competitively priced servicing on all models of car including popular models such as Audi, BMW, Ford, Renault, Seat, Skoda, Toyota, and Volkswagen.
Our qualified technicians have the equipment to service and repair all makes of car and light vehicles even during the manufacturer's warranty period.
Obviously, routine maintenance is vital to the safety and long-term reliability of your car. it will help protect your car against breakdown, unnecessary repairs and will enhance its re-sale value.
Book your service with us today!
Click here to book your service online today!
Need an MOT?
You can also book your MOT with us online. We have a sophisticated, completely real-time, MOT booking facility which not only makes the booking process convenient but also gives you a further £5 discount for using it! Click here to find out more.
We are here to help!
By phone

If you would like to speak to a member of the team you can
click here to contact us directly
.
Live Chat
Need a quick answer to your enquiry? Click the livechat link on the right of the screen to speak to a member of the team instantly.
Livechat service is available 830am till 6pm Mon to Fri and 830am to 4pm on Saturday.