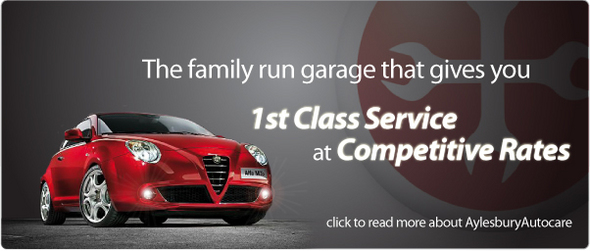 Welcome to Aylesbury Autocare
We are a leading independent garage and MOT testing station offering a real alternative to a main dealership but at a fraction of the cost. Click on one of the images below to take you to the relevent page. For other garage services please click here or the workshop tab above.
Book your MOT Today
We are a VOSA approved MOT testing station. Our MOT station is equipped with an Automated Test Lane. This is the very latest in MOT technology. We also have a real-time, online MOT booking system which not only makes the booking process convenient but also gives you a further £5 discount for using it! [Visit MOT booking page]
MOT not yet due? Our system allows us to send you a reminder before your next MOT inspection is due. If you wish to register for a free reminder alert simply fill in your details here.
Unsure when your MOT is due? Check the status of your MOT by clicking here.
Services & Repairs
We can carry out anything from a basic oil and filter change through to a major service without invalidating the manufacturers warranty on your vehicle. We are equipped with the latest diagnostic equipment and our facilities benefit from state of the art tyre equipment. We can also correct your vehicles wheel alignment.
When you have your car serviced with us we will ensure that it is looked after to the highest possible standard. And should your vehicle require an oil top up between services simply pop in and we'll top it up for free! [read More]
�